You are here:
BLOG -
WHAT'S GOING ON?
Monday, 25 January 2010 01:47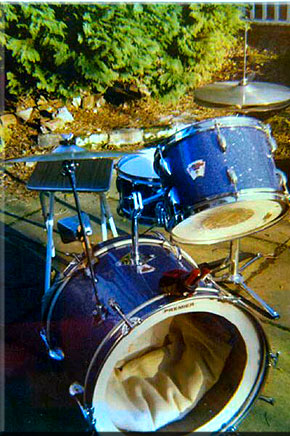 Continuing the trend set in 2009 of memories from my past returning to play apart in the present day due to my return to drumming, more key memories have now risen to the surface.

My first 'proper' drum kit was purchased for £50.00 on 25th October 1976 from a drummer at my school. The kit with it's blue sparkle finish, saw me perform my first ever concerts less than two months later in a school band that contained, ironically, two of the long lost friends who have contacted me this year, some 33 years later!

I have but 2-3 photographs of this kit and until 2009, its make eluded my memory, but it was positively identified for me as a Del Rey Drum kit.

A little research told me that a company called Teisco marketed drum sets in limited sizes and configurations during the 1960s, and sold under the brand name Del Ray. (Teisco was a Japanese manufacturer of affordable musical instruments from 1948 until 1969.) They were produced by sub-contractors to fill out the company's catalogue as a supplier of combo instruments, but discontinued after their acquisition by Kawai.

Having never heard of Del Rey since I sold the kit in October 1977, you would think I was perhaps quite alone in owning one of these kits, but it seems not?!

Preceding me in ownership by 3 years was none other than Def Leppard drummer, Rick Allen!
Aged 10 in 1973, he successfully persuaded his parents to get him a drum kit by agreeing to take lessons and paying half the cost of the kit. He got a red (although it has also been reported as a blue) sparkle Del Rey drum kit and after six months of lessons, he began playing with his first band, Smokey Blue.

Meanwhile, crossing over that Atlantic, in Schenectady, New York in 1980 a 10 year old Jason Bittner (now of Shadows Fall fame) was listening to the Kiss 'Destroyer' album and it was enough to convince Bittner that his destiny was to play in a rock band. By junior high, Bittner had his first kit. It began as a 3-piece hybrid composed of Tama, Rodgers, and once again, Japanese Del Rey pieces in red sparkle, with seven toms.

I'd only kept my Del Rey kit for one year as on 12th October 1977, I purchased my second drum kit; a lovely Gold sparkle wrapped Beverley Drum Kit - £175.00 from Hammonds of Watford. I collected the kit two days later and once again, in under two months, moved to another level, playing my first 'session' aged 14, while also playing my first 'paid' concert and recording at the legendary Roundhouse Recording Studios in London's Chalk Farm just a few months later.

The Beverley kit stayed with me for almost 8 years and everything in those years, every show, tour and recording, was played from behind the Beverley kit.

Starting out with Zyn and Super Zyn cymbals, upgrades to 5* Super Zyns, Tosco and Zildjian would follow, while additional drums in the form of 10" & 12" Remo Roto-Toms would later to enhance the kit.

The original Beverley '21' snare drum, finally gave way in 1984 to a thunderous Gretsch 14 x 8 snare with a 6-ply Maple shell in Rosewood. I'd had my eye on one for years after working with Phil Collins, although his was originally a Pearl 14 x 8 in 1982, before he moved to the Gretsch in 1983.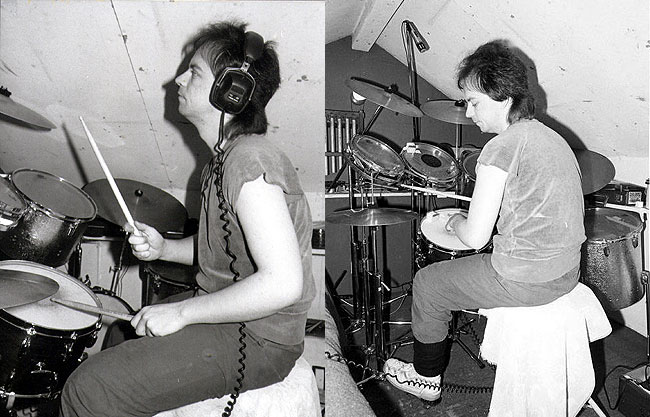 The photo below is the final version of the kit in May of 1985. All of the black and white images were taken by Robin Prichard, a good friend of mine for the past 30 years. Sadly the negative of the full kit below, suffered water damage some years ago, but was lucky to have not suffered a worse fate, especially as this is the only complete kit shot I have.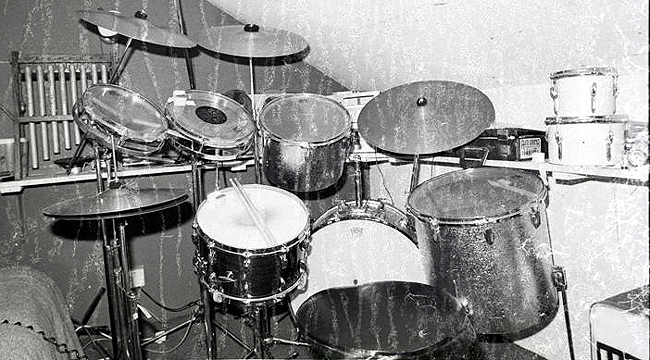 Finally in 1985, after a session for Mick Karn (then of Japan fame) and my appointment as drummer in the band Pride Of Passion with ex Marillion bassist, Diz Minnett, it was time to upgrade and the order was placed with Premier for a custom built, white Projector Concert Tom kit.

The Beverley was sold with nothing more than the Gretsch Snare and a single Roto-tom kept.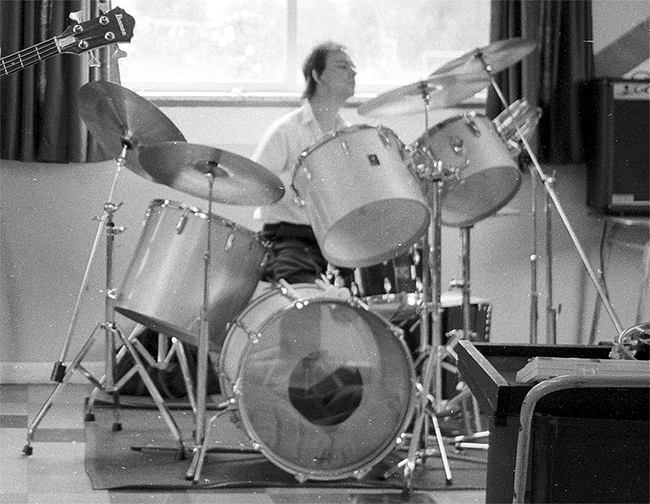 Whilst my Premier kit was in build, I borrowed part of my cousin's Mike's Premier Natural Wood Projector kit which he had himself based on the kit used by Phil Collins at the time and this saw me perform at venues such as the famous Marquee Club in London's Wardor Street, and the Rock Garden at Covent Garden. The shot above was taken in rehearsals in Aylesbury by Robin in July 1985, while the one below he took at the Marquee Club, London later that month.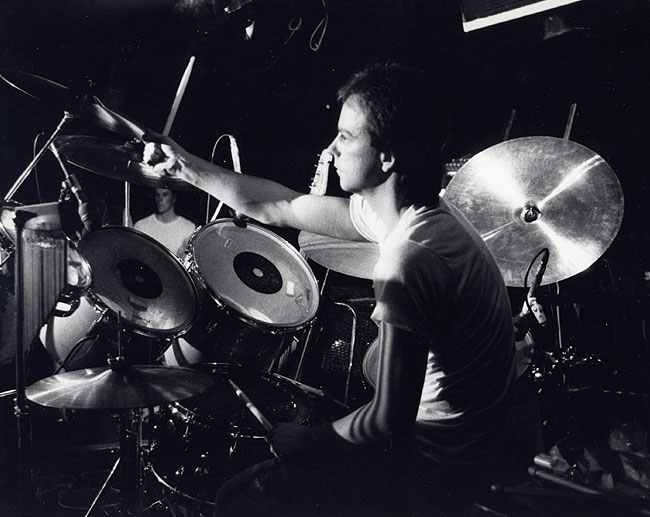 That was 24 years ago, but since my return to drumming in March of 2009, I have naturally dug out old photos and recordings, while I have also had the first contact in 3 decades from old school band members and musicians that I would later tour with, so many have been in touch, so many happy memories of the Del Rey and Beverley kits have returned.

I guess given all my other historic reunions of 2009, something was perhaps naturally going to also occur on the kit front. 

Sure enough, in September while watching 'Later With Jools Holland', Florence And The Machine performed two tracks and to my shock, there was the Gold Beverley kit that I had owned and sounding rather good too! The drummer, Christopher Lloyd Hayden seems to have quite a large Beverley kit, as other drums were scattered about the stage for other members to play.

That set me looking to see what was out there, but nothing was found on the Bay Of E or in other Vintage stores, however, within the space of one week in November, not only did one appear, but two Gold Beverley kits hit the Bay Of E, but in addition, the Del Rey also showed up!
I certainly didn't need any more drums, but something told me it had to be done and after a number of discussions and two long trips, both kits came back in to my possession after 32 and 24 years on respectively! Below is the Beverley Gold wrap kit after picking it up in 2009.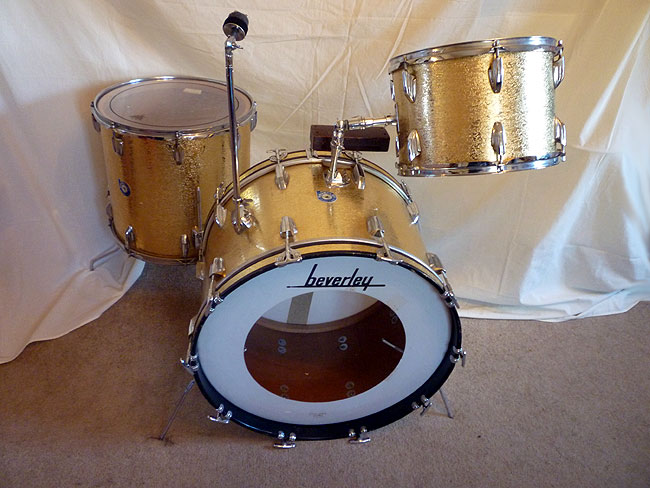 Seeing these two vintage kits was also like greeting one of my long lost friends, in fact, the collection of the Del Rey even brought about another reunion with friends not seen in 15 years, former rock front man Shaun Newnham and his wife Debbie who had recently opened the Wight Rock Bar at Ryde on the Isle Of Wight. Shaun and his wife Debbie rebuilt the bar, which is rapidly gaining quite a reputation on the live music circuit. 
Shaun had started out on the IOW in a band with the late drummer Razzle, (later of Hanoi Rocks fame and who'd met a sad demise in the passenger seat Vince Neil's car of Motley Crue fame.) Shaun, like myself, had many musical near misses, among them joining Golden Earring as it was winding down, so it was great to catch up with him and Debbie. So many happy memories that we had shared, flooded back from the 1980's.

While I doubt I will use the Del Rey kit (shown below after collection in 2009), in a performance, it was after all an entry level kit, I am sure the Beverley kit will see another moment or two under stage lights! Watch this space as they say!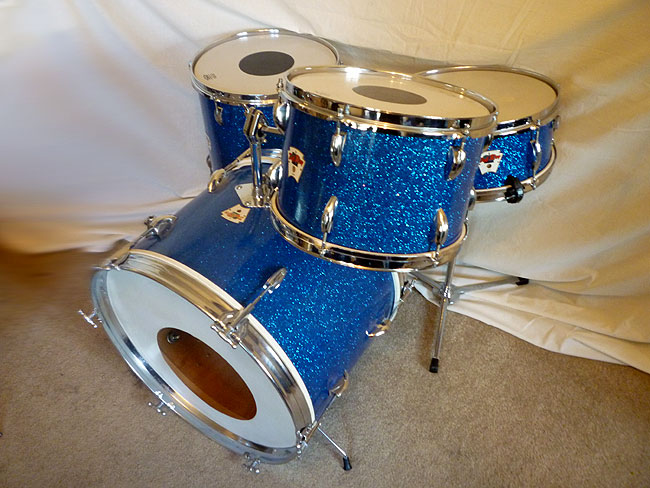 I AM VERY PROUD TO ENDORSE
Latest News Blog Updates