You are here:
BLOG -
WHAT'S GOING ON?
Monday, 10 August 2009 00:00
It really is quite worrying as to where the time goes. It transpires that I have known Fish now for over 28 years!

Originally it was 1980 and Marillion were rehearsing in the room next door to the band that I was in and I found myself wondering about putting myself forward as a possible replacement for Mick Pointer. This proved to be ironically quite prophetic as the band were to replace him in 1983 for the very reasons that I had found myself wondering if I should 'go for it.'

Some years later, in 1985, I once again, quite ironically, found myself in a band with Diz Minnitt on bass who had been replaced in the Marillion line up in 1982. Pride Of Passion had also contained former Marillion keyboard player Brian Jelliman prior to my arrival and after my departure, would see a young Steven Wilson (of Porcupine Tree) come in on keyboards.

So with Diz and Fish being close friends, our paths crossed once again at a time when Marillion were riding perhaps at their peak, with 'Misplaced Childhood' and the rock n roll life style was in full flow.

Fourteen years would pass before we'd meet again and this time, I was brought in by his tour manager Yatta to arrange the 1999 'Raingods with Zippos' tour travel.
By 2001 his stunning 'Fellini Days' album was out and I was busy with the travel arrangements when a little known band from Sweden called A.C.T came into my radar once more. This time it was for the release of their second album 'Imaginary Friends' and I had been so taken with it, that I had gone to great lengths to contact the band.

Things developed quickly between A.C.T and myself and during a discussion with Fish, I enquired about a possible support slot for the band. With Fish's kind approval, I found myself in Hamburg where I would finally meet the member's of A.C.T for the first time.

We played 4 great shows in Germany with Fish which led to the band asking me to take on their management.
Over the next few years, my association with Fish continued as I worked with Yatta on tour travel plans for tours around the world, including the 'Field of Crows' shows.

As I moved out of music travel and into sports cars, our paths didn't cross, although we have kept in contact by phone and email, but in this year where I have taken a close look at my time line, I realised many years had passed since we'd last met, so with a kind invite to his 'Gone Fishing' fan convention, my wife Amy & I, made our way to the great new venue in Leamington Spa, The Assembly.

With Fish towering above me, his bear hug greeting once again engulfed me and we had a wonderful time catching up on our lives. He gave his all at the show that night, having already performed 3 times in two days, he was on stage for a blink under 3 hours, playing everything from Marillion's first album opener 'Script for a Jester's Tear' through to a number of tracks from 'Fellini Days'.

With Fish having given every ounce of energy and more, we made our farewells brief after the show, but left after a wonderful trip down memory lane. To Yatta and Fish, thanks guys and let's not leave it so long next time!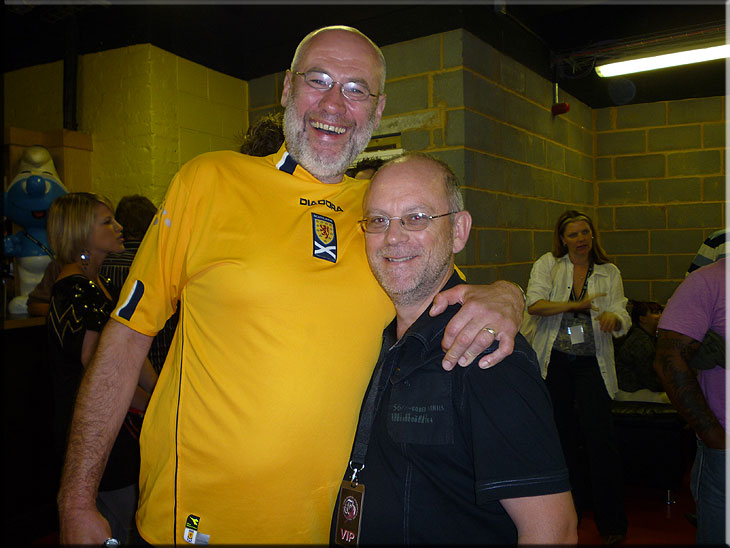 I AM VERY PROUD TO ENDORSE
Latest News Blog Updates